Lake Powell Hiking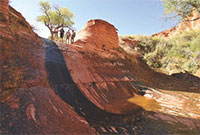 The Glen Canyon Recreation Area is a vast, scenic area surrounding stunning Lake Powell. Hiking here is unlike anywhere else, with exotic flat-top mesas and massive natural arches everywhere you turn. Almost 100 canyons, accessible mainly by boat, beckon you with narrow and twisting red-rock walls.
Hiking trails are accessible from every access point to the lake. From Wahweap Bay and Antelope Island in the south to Bullfrog Bay and Hulls Crossing in the north you'll find signs, parking, and usually a map marking trailheads.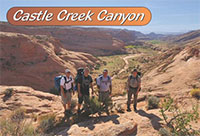 Many of the trails are maintained by the National Park Service, but a great many more sprawl the land, through green valleys and red cliffs. They exist through the persistent use of your fellow hikers and can be found on maps and with local guides.
Not all hiking trails have names but chances are you'll find something wonderful at the end.
Ancient waterflows sculpted the local sandstone in many places into giant arches soaring high above. The openness of the area means you can hike right up to an arch and even climb on top. Some local outfitters may offer bungee jumping if the arch is high enough. With a boat rental or a guided tour you can access the Rainbow Bridge National Monument, the world's largest stone bridge and ancestral home to several local Native American tribes.
Recommended hiking books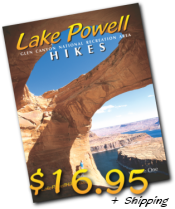 Lake Powell Hikes
The 2012 book "Lake Powell Hikes" by Dave Tate is a 96-page compilation of 23 selected articles from Lake Powell Magazine. It's a high-quality, glossy, coffee-table publication with spectacular scenic photography. Start planning now for an adventure you'll never forget!