Page - Lake Powell Relocation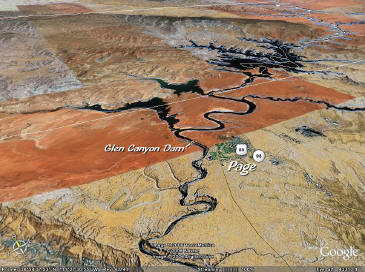 Page is a planned community near the Arizona / Utah border. Named for John C. Page, a 1930s commissioner of the Bureau of Reclamation, the city was planned and developed for the workers building Glen Canyon Dam in 1957. At an elevation of 4,300 feet atop Manson Mesa, overlooking Wahweap Bay of Lake Powell, Page has become a major resort area and was incorporated in March 1975. Flagstaff is 134 miles south via U.S. 89.
PRINCIPAL ECONOMIC ACTIVITIES
Though it began as a temporary camp for construction workers, Page has emerged as a self-sufficient and progressive city. Lake Powell, the Navajo Generating Station and tourism are the major contributors to the economy.
Recreational properties and public utilities are the predominant employers in Page. While the recreation-oriented firms experience seasonal employment peaks from March through November, the Salt River Project's Navajo Generating Station assures the stability of Page. In 1994, Salt River Project began a five-year $50 million scrubber project to assure air quality. The National Park Service estimated that the Page-Lake Powell area had 3.1 million visitors in 1997. Tourism and the distance to other trade centers has created a demand for a variety of consumer goods and services. Therefore, 70 percent of the employers and more than 50 percent of the total workforce are in the retail trade and service sectors.
The federal government is another important employer in the Page area. Glen Canyon National Recreation Area is administered by the National Park Service through headquarters at Page; and Glen Canyon Dam is managed by the U.S. Bureau of Reclamation. Both agencies are part of the U.S. Department of the Interior. Other federal, state and city offices as well as the public schools have boosted government employment to nearly 10 percent of the total.
SCENIC ATTRACTIONS
Lake Powell is the center of recreational opportunities for Page. The lake has 1960 miles of shoreline, which is longer than the entire west coast of the continental United States. There are 96 major canyons to explore as well as Rainbow Bridge National Monument that can be explored via watercraft.
Located in the center of canyon country, Page is just a short drive from the North and South Rim of the Grand Canyon, Bryce and Zion National Park, Monument Valley and Canyon de Chelly. Annual events include, golf tournaments at Lake Powell National Golf Course, bass fishing tournaments, mountain bike racing, rodeos, native American dance performances and pow wows, art shows and an air show with hot air balloons, vintage aircraft and monster trucks.