Page - Lake Powell Fishing
By Jim Cliburn
Like any lake across the country, Lake Powell's fishing patterns change throughout the seasons. Unlike some lakes in colder regions of the country, lake Powell is a year-round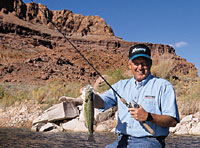 fishery. Some of the most productive fishing days have been in the so-called off seasons---when the lake resembles a mirror---and is as smooth as silk. Some things are constant. Find the bait fish---like shad and craw fish---which follow fairly constant seasonal patterns, and you will find the game fish such as large and smallmouth bass, striped bass, walleye, crappie, catfish and carp. Lake Powell has moderate water temperatures ranging from 45°F to 85°F and never freezes over.
Spring is the most active time of year and the fish have been swimming around the backs of canyons all winter long wondering where the artificial baits have gone! Except for a few knowledgeable and avid fisherman, the lake has been clear of boat traffic for some time. The warming water brings the phenomenon known as the spawn. Knowledge of fish activity during pre-spawn, spawn and post-spawn is imperative. This may appear to be difficult, but it is actually relatively simple. Pre-spawn fish move from the backs of the canyons to points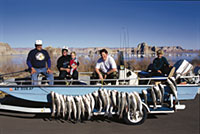 covered with sand and gravel to begin their annual ritual. Popular baits for this time of year on Lake Powell include hula-grubs and spinner baits. During the actual spawn itself---when the fish are on the beds---fishing is even more simple. A brightly colored plastic worm or hula-grub pitched into a well-defined bed will produce a strike almost every time. Post-spawn fish move out to deeper areas and can be taken on soft plastics and spinner baits. This period of time also begins the beginning of a good top water bite during the early or late hours of the day.
Summer season brings large numbers of houseboats, jet skiers and water skiers. The best time of the day is early and late, fishing top water with a split-shot rig. Midday the fish move toward the main channel and bays, Fishing deep during bright sun-lit periods is the most productive.
Fall is considered by most anglers to be the most pleasant time on Lake Powell. The fish are in shallow water, moving toward the backs of the canyons and frequently go into a feeding frenzy. Top water baits, spinner baits and soft plastic jerk baits are dynamite! During the warmers and cooler periods of the fall, fishing slower and deeper can be extremely productive. All game fish follow similar patterns.
Winter is the time to store away your equipment, sit by the fire and develop a serious case of cabin fever. WRONG! Some of my most productive guide trips and personal fishing days have been in the winter. On December 7, Mr. Phil Dion of the Dell Webb Corporation and I enjoyed the most successful guided fishing trip for large mouth bass ever, and on Christmas Eve I caught six largemouth bass over five pounds each.
Be sure to check current fishing information in local papers when planning your trip. Remember, a successful trip is always measured by a safe and enjoyable day. Good attitudes are contagious. Good fishing from Captain Jim!
Click Here for more Lake Powell Fishing Information!