Visitors to the southwest should make every effort to include a day trip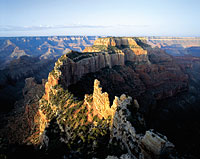 to the Grand Canyon—one of the most spectacular sights in the United States. You will find a variety of activities in and around the park including hiking, rafting, ranger programs, scenic air flights, bus and train tours, horseback riding and fishing. Camping requires a permit from the Backcountry Office. For more information call 520-638-7875. You should apply for a permit well in advance of your trip. Mule rides may be reserved 11 months in advance and there is often a waiting list.
Grand Canyon National Park hosts approximately 5 million visitors each year, so advance reservations is a definite must. During the peak visitation months of March through October, you can expect crowds. Although winter can bring snow and road closures, it also offers an opportunity to see the South Rim in a different setting. The North Rim is closed from mid-October through mid-May.
Make your first stop the Visitors Center, located 6 miles north of the south entrance station. The visitor center offers information about the park as well as maps, brochures and educational materials.