If your idea of the old west is the scenic beauty from Hollywood films,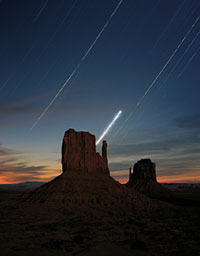 then a stop at Monument Valley should be included on your itinerary. John Ford made the tribal park a popular film location in the 1938 production of Stagecoach. Since then, other films were made—in whole or in part—including the 1988 sequel to the blockbuster, Back to the Future III.

Located on the Arizona/Utah border, the buttes mesas and towering rock formations create a surreal landscape which changes with the rising and setting of the sun. While each formation carries a unique Navajo name, most are referred to by their English counterparts such as the Mittens, Elephant Butte, Three Sisters and, of course, John Ford's Point.

Visitors to the park enjoy the culture and tradition of the Navajo Native Americans, who offer a variety of guided tours. For generations, the Navajo have herded sheep and grown crops in the area. Monument Valley is considered one of the most scenic areas of the Navajo Nation and well worth the visit.

A nominal fee is charged to enter the park; however, National Park Service Golden Eagle and Golden Age passes are not accepted. Lodging, camping, dining, RV hook-ups and fuel are available at nearby Goulding's Lodge.